An image is worth getting right because it will improve your website's conversion rate. But, how do you know what the "right" image is and where to find it? Let's start with where to find images.
Where to Find Images
Your website images can be free stock photography; just be sure to abide by each asset's media license. At Business Website Leader we get our free images from these three sites:
If you need more options you can take the paid route. When you can find the right free image we recommend using https://stock.adobe.com/ for both images and icons.
Finding The Right Image
Finding the right image can take a while but it is worth the investment. On average we can speed a few hours tracking down just the right image for the sites we build. So, don't get overwhelmed and be patient. Here is six tips for selecting the right image.
1. Reduce Background Noise
Be simple and not too busy. Images with a lot going on in the background are distracting and cause your customers to get distracted from your call-to-action buttons.
2. Use Looking Space
Use proper looking space in photos.
The rule of space in photography is simply the act of adding visual space in front of the direction that an object is moving, looking or pointing to imply motion and direction and to lead the eye of the viewer.

https://photographyhero.com/
3. Don't Be Cliche
Avoid cliche images. For example, if you are a life coach don't use an image of someone at the top of a tall mountain with their hand in the air.
4. Don't Be Too Abstract
Make sure your icons are not too abstract. Don't be artsy unless your business is related to art.
5. Avoid Original Photography
Avoid original photography unless it is professionally shot. There are a lot of people who say you can use your iPhone to get great content but we have found this to be rarely true unless you know the fundamentals of photography.
6. Point Photos
When placing images on your site make sure your figure is looking at what you want your customer to click on or read. Take a look at this eye-tracking study from http://usableworld.com.au/ (the red areas are where customers look)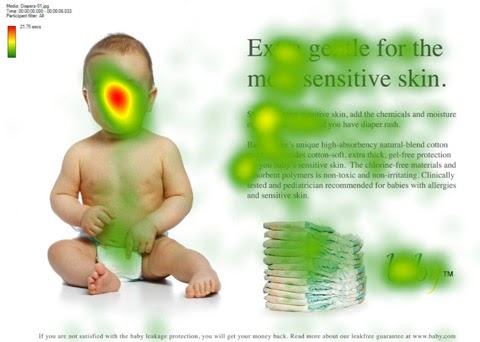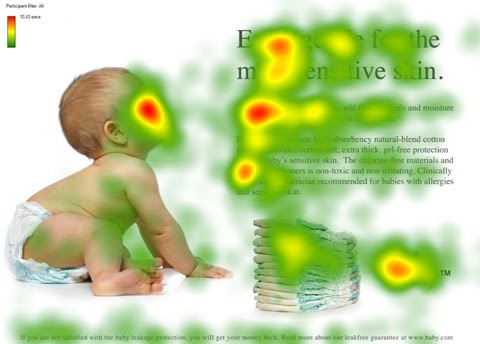 When shown a face our eyes look where that face is looking. If you use proper images the impact is huge.
Conclusion
Finding the right images for your website can take some time and learning. But, when you find the right image it can make all the difference in your website's conversion rate.